Germanium Bracelet & Necklace with 99.9999% Germanium Purity from South Korea n
ow Available in Singapore
What does Germanium chip in 99.9999% purity really means?
Is the more Germanium Chips the better? or the higher Purity the Germanium Chip the better? How to read them?
Please see comparison Chart below.
Different Grades of Germanium (Ge) Chip offered in the market and how to read them?
99.9999%

* Purity Ge-chip x 5 PCs = 49,995 units

99.999%

* Purity Ge-chip x 50 PCs = 49,950 units

99.99%

* Purity Ge-chip x 50 PCs = 4,950 units

99.9%

* Purity Ge-chip x 50 PCs = 450 units
*Black,

Red

or

White

Colour are Germanium powder held together in an Epoxy resin form was Germanium in Significantly Low Purity

,

It usually has a plastic appearance.
* Also read as PPM (Parts Per million)
Some germanium jewellery uses less costly germanium powder held together in an epoxy resin form. It usually has a dark, plastic appearance. All of the germanium we use is solid 99.9999% purity. No powders. This is the best and the most costly materials available. The bracelet is in titanium and no other metals, such as stainless steel are used.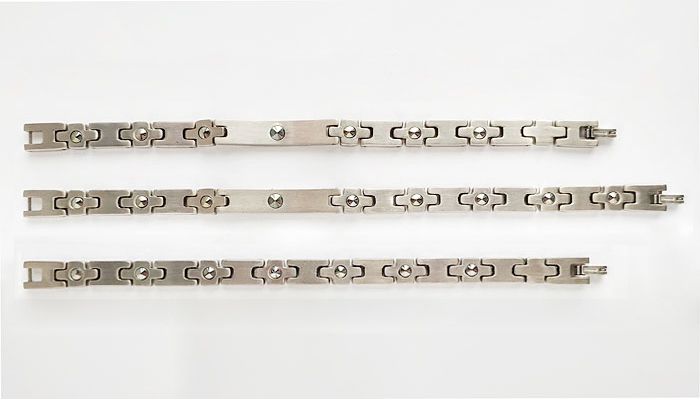 Bracelet Width: 7.2mm
* Length: 14.5cm, 16cm, 17.5cm or 19.6cm
comes with 5/7/8/9/10 pcs of Germanium Chips

Why Germanium-chip comes with different shape/cutting?
"A-top" chip generated more focus energy and deliver deeper into our body
The best way to discover, is to try it out yourself!
Take advantage of our 7 days money-back satisfaction guarantee*
It is believed that Germanium Titanium Bracelets, Germanium Necklace or Titanium Bracelet, also commonly refer to Bio-Magnetic Bracelet, Bio-Ge Titanium Health Bracelet or Pain Relief Bracelet can help relief pain on our back or spine, improve blood circulation, increase body oxygen supply, enhance the immune system as well as help to relieve the discomfort associated with the cervical vertebra (human neck), due to fall, sport injury or overwork. These obvious symptoms include neck or shoulder stiffness, muscle strains, back pain, numbness and muscular ache of arms or fingers.
Germanium chip has an amazing capacity to raise the level of activity of various organs by enabling them to attract more oxygen to support the body's natural defense system. It is said that Germanium helps improve oxygen flow to tissues and boosts circulation, which improves stamina and endurance. As a result, more oxygen moves around and a person feels more energetic.
Both titanium and germanium jewelry use what is known as magnetic therapy. Research is on-going to examine the various health claims and benefits of wearing jewelry made from Titanium and Germanium. In spite of the lack of scientific evidence, there are however, many testimonials and feedbacks / reviews attesting to the effectiveness and benefits when wearing these jewelry.
>> The best way to discover, is to try it out yourself >> Take advantage of our 7 days money-back satisfaction guarantee policy*
* For Singapore market only.
* For user with selective type of symptom only.
* Pay only $28 administration fee if you return the bracelet or necklace within 7 days.
* Delivery in Singapore at $20 per trip.